ENDURO Sun 12 May 2019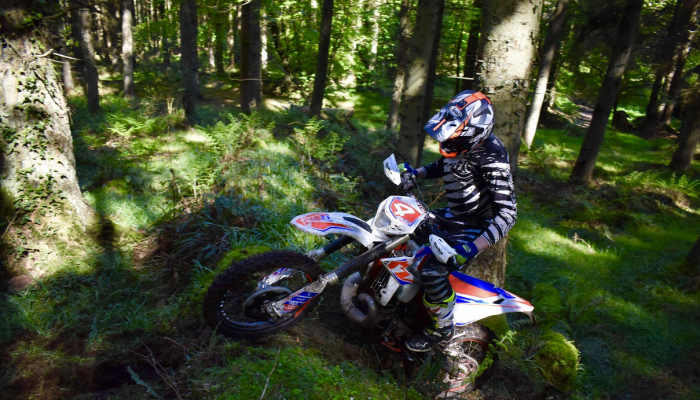 Western Enduro Centre Rnd 3 Results
Craig Norrey won the overall and Expert class of Sunday's SMCC run timecard enduro. Held at Carnagrie with special tests at Ballaspit and Eairy Beg plantation and forming round 3 of the ACU Isle of Man Centre Enduro Championship.
The event was based on a lap starting at Carnagrie and lead the riders to the steep upland of Ballaspit at the rear of Slieau Whallian kindly provided by Thelma Corrin and Gordon Clague. First time around was an untimed sighting lap as such a large test is hard to commit to memory by walking alone. 
After Ballaspit riders travelled to Eairy Beg plantation near Glen Helen via Slieau Whallian, Lerghy Colvine and Mannanan's Chair greenway roads.
Both Eairy Beg plantation and Ballaspit were initially slick with morning dew but both dried out in the bright sunshine as the day progressed.
EXPERT 
Expert class was a 2 horse affair with 20 somethings Grant Thomson and Craig Norrey dueling throughout the day and swapping times. Each return to the start check gave riders the chance to review their test times on the live scoreboard.
Beta mounted Norrey had the measure of Thomson on Ballaspit having spend much of the preceding 2 weeks marking out the test giving him good knowledge of the route which he took advantage of early on. In the tighter more technical Eairy Beg Thomson matched and clawed back a little. Max Ingham set the fastest time of the day in the trees but he wasn't able to get within striking distance on Ballaspit.
Thomson under pressure pushed a little too hard and came off his 450 Honda on Ballaspit bashing his hand but not enough to slow his podium charge. 
At the flag it was 'Nitro' Norrey, onboard his Coole Girl Egg sponsored Beta, who took his first Centre Enduro Expert class win by 40secs after 7 tests from Grant Thomson and Max Ingham in third. Chief post knocker Jack Collins scored a solid 4th from new boy Liam Crellin.
CLUBMAN
Jordon Corkill triumphed in Clubman, fastest on every test compared to the 2 who shared the podium. Tom Dawson 2 mins behind and Peter Kermeen a further 2mins down on Tom. Early on it was enduro newcomer Harry Corrin who lead the way despite not being totally clear on the format of the event. A win or at least podium finish was lost when his rear tyre deflated and despite fixing it he incurred 36mins of penalty plunging him down the results sheet.  
VETERAN
Robert Quayle took the honors with a consistent set of tests from Ste Corlett who lost a healthly lead on Ballaspit lap 1 and never managed to overhaul Quayle despite setting quicker times throughout the day. Nigel Beaumont took another 3rd place and remains a championship contenter having beaten Corlett in Rnd 1, Quayle a no show and Russ Millward presently on a sojourn en Francais.
SPORTSMAN
Class winner Sam Corlett posted the 4th best Clubman time on the opening test in Eairy Beg riding in the Sportsman class on a flapper. Second was Jason Keig on a KTM 300 followed by 250 Honda of Stephen Farrell who had steady times in Eairy Beg but was a minute faster than the rest of the class over Ballaspit.  

Thanks go to Thelma and Gordon at Ballaspit for the use of the land.  Phil Kennaugh for land at Slieau Whallian. Chris Beaumont for setting out Eairy Beg, Cat Thomson for timekeeping on the check and Motor Sport Medical services for the ambulance.
https://my2.raceresult.com/123835/registration?mode=1
Photo credit: Orry Millward
< Back