ENDURO Sun 10 Jun 2018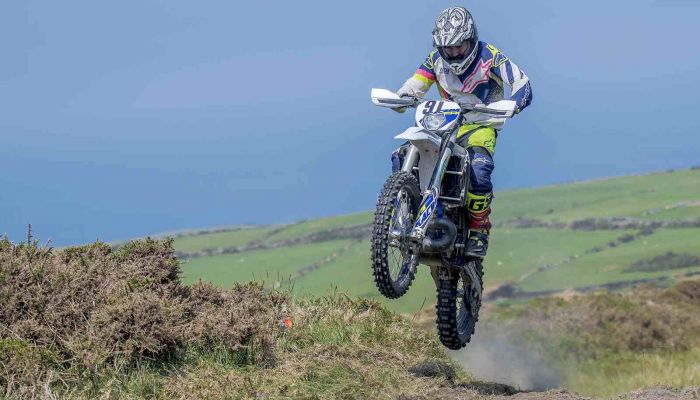 Motott Fun Enduro 2018 Results
The clubs annual post-TT event was held under clear blue skies and strong sunshine that beat down on the already bone dry club land at Carnagrie. 
With no rain for weeks and not one puddle or even soft ground anywhere on the land conditions were always going to be hot and dusty.
The format was 3 races the first being a warm up 1hr adult race followed by a 40min kids race and an extended 90min Adult race.
MOTO1 
With a low entry of only 21 adults the first event got away with Juan Knight taking the hole shot from Jed Etchells, Jack Collins with Danny McCanney knocking bars with 4th and 5th place at the first corner a situation that didn't last long. Juan Knight unhappy with the levels of dust in the opening laps decided to pull in and watch son Thomas. 
Gas Gas riders Craig Norrey and Ashley Kelly traded blows early on before Norrey was able to break free. Chuck Bregazzi was placed above several of the more exuberant club regulars. 
Winner was not surprisingly Danny McCanney however Jed Etchells was put in a great ride to stay within 1 lap for all but the final circuit. Craig Norrey was 3rd managing to recover from a tumble and overhaul 4th placed Jordan Corkill.
Matty Skillen (pictured) had an awkward off at the start / finish and although finishing sat out the rest of the day, visitor Mike Barber was shown the way round by brother Laurence. Honda mounted Kyle Batty, 15yrs, rode as an adult and was only 1 lap down on some club regulars.  
Will Duggan unfortunately twisted his knee, making it back to his van on adrenaline alone but soon after it became clear he was in need of medical attention. 
Hogg motorsport medical crew attended to Will before transferring him to a regular ambulance at the Carnagrie gate. This meant a slightly delayed start for the Youth race.
MOTO2 Youth
Youth class featured both 85cc and 65cc machines and ran on the same course as the adults but with some minor alterations for safety, the quarry step up was removed and a 4 foot drop off step also cut out. Many other natural obstacles still remained for the youngsters to negotiate
including a steep rock face and wagon tires all of which they handled expertly on their small and unforgiving MX bikes.
William Cawte lead from the outset from Orry Millward aboard their 85s with the remaining field in pursuit most making it round the 40min without a fuel stop. 
Harry Shand's father David employed a 21st century way of keeping tabs on his son's progress, to follow behind by drone, it truly is a great time to be alive. 
MOTOTT
With most of TT 2018 Okell's sweated out in MOTO1 the Adults lined up again for the MOTO TT event, planned to be a longer 90min moto however heat and dust drew consensus that a repeat 1 hour race was enough for everyone.
Danny McCanney again managed to put a lap on the whole field and this time include a pitstop. Ashley Kelly unfortunately came off at the top of the rock face and got tangled with his bike causing a yellow flag situation. Hogg again attended but eventually Ashley was able to ride back to the pits.
Jack Collins spent the majority of the race literally eating dust from Thomas Knight's GasGas before finally pushing past after the halfway point. If Jack's face was anything to go by his Yamaha air filter will be in need of a wash. Mike Barber got the better of brother Laurence this time around. American David Klein finished both events in an Hawaiian shirt, very fitting of the weather.
DNF/DNS from MOTO1 brought the list of starters down with either mechanical failures or injury.
Thanks to all helpers and marshals, Hogg Motorsport, Helen Beaumont for the catering in the kitchen, travelling marshals Ian Bailey, Ryan Neild and Nigel Beaumont. Starter and youth organiser David Christian.
Next Event Manxduro British Timecard Enduro Championship Rounds
< Back