ENDURO Sun 8 Jul 2018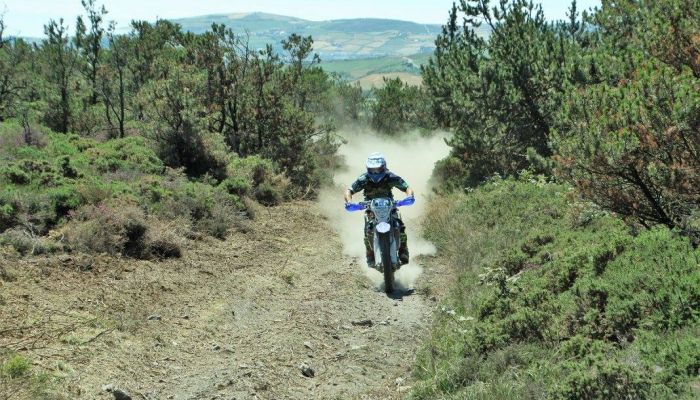 Manxduro 2018 Results
Blistering heat, dusty going and energy sapping sunshine all helped make the 2018 Manxduro resemble a southern european event. Gone was the usual slippery peat mud of the Manx hills making dust and tropical heat the major discomfort for the riders and officals.
Beginning at the TT Grandstand the action started at 9:30 Saturday morning and headed to the clubs land at Carnagrie in the South of the island by way of some of the greenway roads. 
Carnagrie formed the centre of the event for the duration of the day with a Special Test and workarea for the teams to refuel machines and refresh riders.  
The course wound over the manx hills and down 'Witches Hill' Slieau Whallian to St Johns eventually arriving at Earystane farmland and Plantation known as Magnetic Hill due to its automotive optical illusion. With road going on each section of the course safety dictates that riders cannot be pushed for time. The 'Tight Check' between Cringle Plantation and South Barrule quarry is the exception to this rule, riders were given as little as 18 mins to complete the section meaning there is nothing to gain over rivals but plenty to be lost in terms of time penalties.
Day 1 
Danny McCanney continued his dominance of the British Enduro Championship and put 1min into second placed Jack Edmondson with Tom Sagar 1min 30s behind after 7 special tests. Joe Wootton was 4th with 5th Alex Snow and Dan Mundell in 6th place all posting similar test times to the podium men.
Expert class was a hard fought battle with the top 6 split by less than 1 min, Luke Flack took victory from Aaron Gordon and Max Ditchfield with Ricky Wiggins and local teenager Max Ingham putting in an impressive performance.
Clubman class was won by Wrexham's Harry Houghton onboard a KTM 125. Fastest on every test he was chased home by an incredibly tight field with positions separated the narrowest of margins. Lewis Ranger was 2nd followed by Jake Purcell. The distance between laps caused some of the 125 riders issue with fuel tank capacity but all managed to nurse their bikes to the finish.
The highly competitive Over 40 was won by Juan Knight by a comfortable margin no doubt Juan had the stopwatch on his rivals going into the tests so and extended his lead each time. Andrew Edwards a late entry held a good gap ahead of rival Andrew Reeves with Rudy Austin in 4th. 
Women's class was won by Rosie Rowett from Neive Holmes and Chloe Richards in third after picking up a 3min penalty. Rosie's impressive times would have put her mid pack in Clubman overall. Jane Daniels finished 23rd in Expert running times good enough for a podium most classes. Kate Smith and Megan Wilson rode in clubman class having a great weekend together.
Over 50's was won by Paul Davies from Julian Oakes who set the fastest times on the tests but gave a way abit too much on his first run through. Jason Rees was 3rd and Gary Flowers finished fourth. Paul Spurgeon called it a day with 1 test to go suffering from a flat rear tyre.
Ollie Harcombe took victory in Sportsman by 7mins staying clean on the going and setting the fastest test times on all but the first. Ross Morrison was 2nd followed by Simon Walker and Peter Whiteside all picking up time penalties.
Day 2
Danny McCanney took victory again on Day 2 again followed by Jack Edmondson, Joe Wootton, Alex Snow with Tom Sagar droppping to 5th suffering from a injured wrist.
Experts Aaron Gordon got the better of Luke    Flack and Max Ditchfield grabbed another third spot.
Clubman was a similar affair to Day 1 with victor Harry Houghton and second placed Lewis Ranger a suprise arrival to the podium was teenager Thomas Knight in 3rd place. 
Megan Wilson stopped to help a fallen rider and her time will be credited back to her, thank you Megan for being so sporting.
Rosie Rowett made it a double victory and Nieve Holmes was both 2nd and the final finisher as Chloe Richards failed to finish.
Julian Oakes over turned the tables in Over 50's and took victory from Paul Davies
Enormous thanks go to Paul Costain for the land at Earystane, Themla for Ballaspit and Gordon Clague, Motorsport Medical Services, DEFA all marshals timekeepers and helpers.
Day 1 and Day 2 (rounds 6 and 7)
Video Highlights from the 2018 Manxduro from Enduro.Live
All results are provisional.
< Back