ENDURO Tue 19 Apr 2022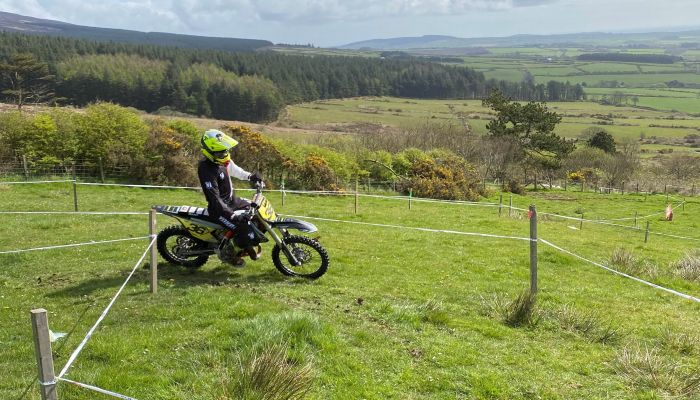 Easter Monday Hare & Hounds Enduro 2022 Result
Youth class rode a shorter mainly grass course with a few hundred metres of plantation and singletrack headland over Paul Costain's Magnetic Hill farmland. Travis Meechan was the winner on board his KTM 85. Harry Shand kept him honest the 2 exchanging laptimes with Jacob Wilson took 3rd with a solid 9 laps. 
Adults 
Solo
With a visible line laid down by the mornings Youth riders the field of 50 solos and pairs combined were a sight and sound to witness. Lead by David Knight he took 17sec lead over the line on lap 1 from Craig Norrey who benefited from local knowledge as he spend all week setting the course out. Once familiar with the track layout Knight took to task and pulled an average of 1 min on Norrey who was never troubled in 2nd place on board his new TM 300. Fireman all rounder Gav Hunt was 3rd.
Pairs Class
Pairs class was won by impressive teenagers Bobby Moyer and Will Cawte onboard a 125 Beta the pair were 3rd on overall on times. Second pair Chris Madigan and Al Heginbotham both definately not teenagers anymore. Followed by more teenagers Beau Brown and Liam Smith. 
Overall Results  Classes Results  Full Results
Huge thanks to Paul Costain and all at Moorhouse Farm who supplied the venue. Thank you to Hogg Rescue/Rob Vine Ambulance team. Brenda and Cat and all other helpers. The event raised £500 for Breast Cancer Now. 
< Back