ENDURO Sun 3 Feb 2019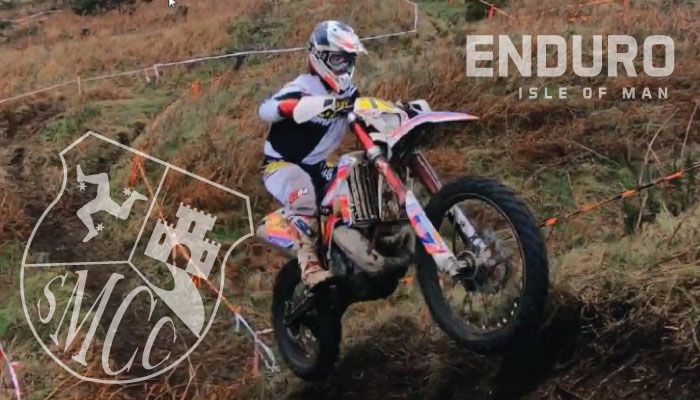 Dalby Enduro Centre Rnd 1 2019 Results
The opening Isle of Man ACU Centre Enduro Championship round of 2019 ran at the traditional venues of Dalby Mountain and Cringle plantation.  
With icy road conditions and the club using electronic timing for the first time a later start of 10:30 was scheduled. The course took riders from Carnagrie to the Dalby test via Raby Beg greenway. Dalby had hard and easy routes, slippy off camber corners and treacherous clay mud. Jack Collins and long suffering partner Sarah put in hours on the Dalby test route marking in horrible conditions.
After Dalby the course took the field to Cringle plantation via point 119 and round the second special test in a damp and only a little grippier Cringle plantation set out by Will Duggan and Alan Heath along with helpers.
Riders rode the Pipeline track back toward Carnagrie with an ice shelf formed on the bedrock slab stream crossing that caught several marshals and competitors out thankfully with limited injury. With the first run around Dalby an untimed sighting lap the first competitive test was Cringle. 
Expert
Danny McCanney was fastest round Cringle by almost 30sec from Sherco mounted Jed Etchells with teenager Tom Knight the only other rider below the 8min mark. On lap 2 at Dalby under the gun for the first time and Chris Madigan posted the best time of the field, second was Danny McCanney and Grant Thomson in 3rd. Back to Cringle and Danny extended his overall lead further. 
Each lap returning to Carnagrie the riders had opportunity to review their test times along with those of their rivals adding some element of mid event pressure. At the second timed run through Dalby Madigan set the fasted time again with McCanney and Thomson close behind. The final run through Dalby was a back to back test Danny finally set the outright fastest time with Madigan going faster than before and 4 secs behind. What Madigan gained on Dalby he lost to McCanney at Cringle where on average he was 30sec per test slower. Grant Thomson's fight for 3rd place was a similarly close contest with Jed Etchells. The secret to both battles appeared to be Cringle where a no drama run through could give you a lead that can be defended on the fast blast across Dalby, or a muddy slide dependent on your skill level and commitment.
Clubman 
Tom Dawson was a clear winner in Clubman by an overall 1:30 but he was kept honest in several of the tests by last years club champion Matty Skillen. Third was relative new boy Marcus Simpson. Clubman has had resurgence in numbers and was again the biggest class with a plenty of new and a few returning familiar faces. 
Veteran 
Bookies favourite and class debutante Russell Millward took a flawless victory in Veteran class. Fastest on every test and setting an overall time that would have put him mid pack in Expert. Chuck Bregazzi was a distant second 6 minutes behind with Nigel Beaumont in third swapping times with 2 time class champ Ste Corlett who lost a chunk of time on Dalby costing him a podium. 
Sportsman 
Stephen Farrell took his first class victory in Sportsman riding a kickstart Honda 250 rat bike. Second was newcomer Jason Keig who kept Farrell honest, third spot was Sam Corlett riding a flapper for the Sons of Anagh Coar C90 biker club alongside Daniel Maddocks who 'ghosted' his flapper airborne into a tree in Cringle ending his day. Sam Lewin had an unfortunate off early on the first track and hopefully he has now recovered.
Overall it was a challenging and memorable event for the ice, mist, rain and difficulty level these all brought. Congratulations go to those who rode it regardless of where the finished it was an adventure.
The club would like to thank Motorsport Medical services, Neil and Vicky Massan for the use of Dalby, DEFA, Cat Thomson, Craggers, Chris Beaumont, Bob and Suzy and everyone else who I cant remember right now. 
Dalby Enduro Center Rnd 1 2019 Results
Thanks to Paul Lowey of PL Pics for the video Footage 
< Back