ENDURO Tue 15 Oct 2019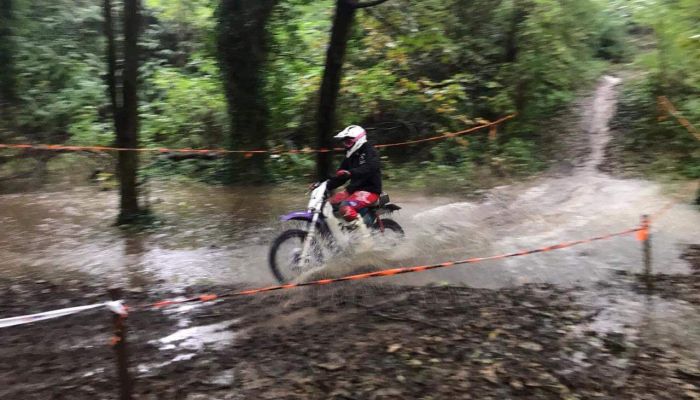 Billown Enduro 2019 Results
The Southern MCC Billown Enduro ran in torrential weather and persistent rain. Starting from a soaking Silverdale car park the short route took the 32 riders who braved it to Ballavell farm via flooded roads.
The first special test laid out by Will Duggan on his own farmland was 4.5km of twisting stubblefield on a 19 acre flat field with practically no straights just sweeping corner followed by sweeping corner. Unfortunately the ground was saturated but despite this speeds were suprisingly high. 
Test 2 was a different story run in the old quarry bowl at Billown Glen it literally filled up with rainwater but the lack of grip meant the steep decents and climbs were incredibly difficult for all of the field. 
Expert 
TM Factory rider Danny McCanney took victory by 2 minutes overall from youngster and MTS Sherco rider Jed Etchells with Billown Glen test creator Chris Madigan only 14 seconds back in third. Fourth place was recently crowned British MX Champion teenager Max Ingham. Will Duggan gave McCanney, Etchells and Ingham a run their for money regularly putting in sub 5min laps on Ballavell.
The Centre Championship title fight between fourth placed Grant Thomson and Craig Norrey goes down to the last round of the season but the SMCC championship goes to Grant having ridden all the SMCC events this year. With no British Enduro or World Round #43 may well spoil the local tussle between Norrey and Thomson.
Clubman
Late entry and birthday boy Ben Hardy took the honours by decent margin in Clubman on a Gas Gas that sounded in need of a tune up. Tom Dawson took second place and secured himself the SMCC club championship third was Eric Herdman who began the day getting well and truely 'filled-in' with mud on Ballavell.
Dawson wins both the Centre and Club Enduro Clubman class championships he cannot be mathematically caught.
Veteran
Back from injury Russell Milward was winner in Vets class kept honest by Gary Flowers who must have been really struggling for vision with a pair of spectacles on. Mark Crellin was third his first trip to the podium in the 50+ category. Ste Corlett is confirmed as SMCC Club Veteran Champion keeping up his clean sheet.
The Centre Championship for the class goes to the wire with Millward being a clear favourite.
Sportsman
Stephen Farrell took the honours from Adam Rutter in second by a tiny margin of 3secs and Pete Beaumont in third place.
Farrell wins the Sportsman Club and Centre Sportsman class Championships after title rival Sam Corlett (pictured) failed to finish his Flapper along with Daniel Maddox.
Anyone who rode the event and got through Billown Glen should regard themselves a hero. There were many experienced and fast riders who refused to ride another lap.
Huge thanks go to Will and Robin Duggan for use of the farm at Ballavell, Eric Taggart for use of Billown Glen, Chris Madigan and Stephen Farrell for marking out the Glen. Travelling Marshals Ste Ennett and Andrew Sidebottom, Bob and Pete Clague for running the Billown Glen Test. Cat Thomson and Brenda and Hogg Rescue Ambulance crew.
< Back