ENDURO Sun 30 Sep 2018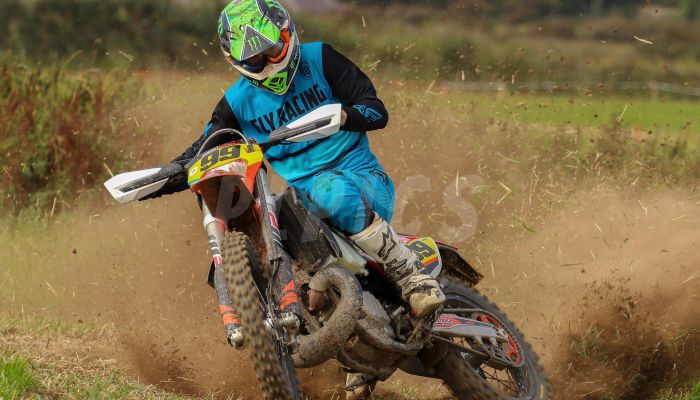 Billown Enduro 2018 Results
Southern MCCs final Enduro event of the year was held at Castletown in perfect conditions.  The start area kindly supplied by S100 allowed access to Paul Costains a land at Red Gap. 
Four good size flat fields last use by smcc in 2010 when one of wettest winters on record help create an event with more uncommon with trench warfare than Enduro riding. Red Gap 2018 was a much more civilized and speedier event. With the hosepipe ban only just over the ground was in perfect condition. Committee members Jack Collins and Alan Heath laid on a fantastic flowing grass test including 2 snails, ever tightening corners that eventually lead to a flip flop chicane and an ever increasing radius corner that leads riders past their pursuers in the opposite direction. Mind boggling stuff !
Test 2 was completely new land for the club as far as Enduro competition goes. Billown Glen a familiar trials location kindly loaned to the club by Eric Taggart and set out by extreme Enduro specialist Chris Madigan. With easy routes, hard routes and extra hard routes the whole feild was able to navigate the course but not without some gritting of teeth on the steep descents and undulating terrain. 
Format of the event was slightly different than usual with no going between the tests the format was a hybrid of timecard and runaround all classes starting with Sportsman rode Red Gap for a sighting lap followed by 1 timed lap. Then made their way to Billown Glen on the S100 circuit for 2 laps of the test and returning to Red Gap via the rest of the S100 course this was repeated 3 times with a final test at Red Gap to make up for the untimed sighting lap.
A total of 12 tests which is equivalent of 3 enduros for the Sportsman class some of who had total test times in the 90min region, despite the large test count the day was all done by 1pm.
 
Experts 
Billown Glen course creator Chris Madigan and Jed Etchells swapped test times throughout the day. Madigan had the measure of Etchells on Billown for all but 1 test but the youngster had the bit between his Sherco's teeth on Red Gap pulling out small but significant chunks of time over Madigan's Beta. At the flag it was Etchells that took victory by only 28secs an average of just 2 secs difference per test.
Third place was Beta mounted Ollie Megson returning to SMCC Enduro after a long absence. 3 secs behing Megson was Grant Thompson who mirrored Ollies times to within 4 seconds every test often posting identical times. 
Never far from controversy Craig Norrey managed to crash his GasGas on the approach to the finish of the first timed Red Gap test causing Bob Clague to abandon his timekeeping post and rush to Norrey's aid. This meant times were inaccurately recorded for the next approaching riders so Test 1 times were dropped for the Expert class. Norrey remounted, attended the Hogg rescue ambulance and finished the day in 5th he truly is SMCC's own Guy Martin.
Clubman
Jordon Corkill blitzed the field on board his 2 stroke KTM setting Expert level times on Red Gaps open grass test. The more technical riding in Billown the gap to second place Matty Skillen was less pronounced. Third placed Tom Dawson was under-prepared for the event but still managed to bag a podium despite hydration issues the evening before. Newcomer Harry Corrin performed well and it was good to see some new faces in clubman Adam Ackers and Aaron Watson in their first SMCC enduro.
 
Vets 
Stephen Corlett muscled his 2002 KTM 300 round for another victory, riding with impressing consistency and always smiling. Second place Chuck Bregazzi along with Robert Qualye mistakenly road up a vertical bank in Billown not realising there he was ment to ride a wall of death style corner. Chuck was lucky to avoid a time penalty when caught straightening his KTM's wheel and fork alignment against the clerk of the course' pick-up truck after a spill in Billown. Third vet home was Nigel Beaumont on board his new 250 Yamaha. Robert Qualye failed to finish due to a broken chain at Billown Glen.
 
Sportsman
Chris Beaumont took another victory in sportsman class remarkable given the condition of his bike at scrutineering! Aiden Forsythe kept him honest matching and bettering test times on occasion. Third place was Peter Gray who got lost on the first timed lap around Red Gap and ended up recording the fastest time. Stephen Farrell on a borrowed bike was fourth and recovered from a big off in Billown to make it to the finish, all captured on video.
Thanks go to Eric Taggart for Billown Glen access, Paul Costain for Red Gap, Southern 100 for the paddock area, Hogg Motorsport Medical all helpers and course markers.
Special thanks to the club members for bringing in Red Gap course in a matter of minutes that made a huge difference to us all.
 
< Back